Deep Purple
Days May Come And Days May Go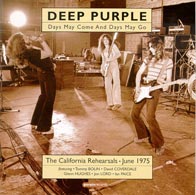 © 2000 Purple Records

1. Owed to 'G' (jam)
2. If You Love Me Woman
3. The Orange Juice Song
4. I Got Nothing For You
5. Statesboro' Blues
6. Dance To The Rock & Roll
7. Drifter (rehearsal sequence)
8. Drifter (version 1)
9. The Last Of The Long Jams

Jon Lord (keyboards), Tommy Bolin (guitar), Ian Paice (drums), Glenn Hughes (bass, vocals), David Coverdale (vocals).

На этом диске изданы уникальные записи первых репетиций Deep Purple с гитаристом Томми Болиным. Материал, записанный в Калифорнии в июне 1975 года, позднее лег в основу альбома "Come Taste The Band".
Имеет место и дополнительный бонус-диск "1420 Beachwood Drive", на котором записано еще 30 минут калифорнийских сессий.



WWW . DEEP-PURPLE . RU