Deep Purple
Gemini Suite Live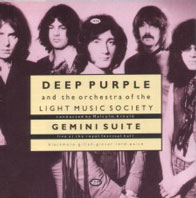 © 1993 RPM Records

1. First Movement : Guitar/Organ
(17:23)
2. Second Movement : Voice/Bass
(10:18)
3. Third Movement : Drums/Finale
(16:52)


Credits:
All Tracks - Lord.

Jon Lord (keyboards), Ritchie Blackmore (guitar), Ian Paice (drums), Roger Glover (bass), Ian Gillan (vocals).

Альбом записан 17 сентября 1970 года совместно с симфоническим оркестром Orchestra of the Light Music Society (дирижер - Malcolm Arnold). Концерт состоялся в лондонском Royal Festival Hall. Компакт-диск с записью концерта вышел в 1993 году на фирме RPM Records.



WWW . DEEP-PURPLE . RU