Deep Purple with Orchestra
Live At Montreux 2011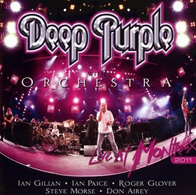 © 2011 Eagle Vision


CD 1

1. Orchestral Intro
2. Highway Star
3. Hard Loving Man
4. Maybe I'm A Leo
5. Strange Kind Of Woman
6. Rapture Of The Deep
7. Woman From Tokyo
8. Contact Lost
9. When A Blind Man Cries
10. The Well Dressed Guitar

CD 2

11. Knocking At Your Back Door
12. Lazy
13. No One Came
14. Don Airey Solo
15. Perfect Strangers
16. Space Truckin'
17. Smoke On The Water
18. Hush
19. Black Night

Ian Gillan (vocals), Roger Glover (bass), Don Airey (keyboards), Steve Morse (guitar), Ian Paice (drums).

Альбом содержит запись концерта от 16 июля 2011 года, завершившего юбилейный, 45-й Джаз-фестиваль в г.Монтрё, Швейцария. В отличие от предыдущих концертов, проходивших в Auditorium Stravinski, группа выступает с оркестром "Neue Philarmonie" (дирижер Cтивен Бентли-Кляйн).
Выпущены DVD и Blu-Ray версии этого выступления (о последней можно прочитать здесь).




WWW . DEEP-PURPLE . RU