Deep Purple
The Battle Rages On...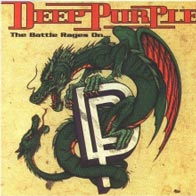 © 1993 RCA Records

1. The Battle Rages On (5:48)
2. Lick It Up (3:50)
3. Anya (6:28)
4. Talk About Love (4:05)
5. Time To Kill (5:44)
6. Ramshackle Man (5:32)
7. A Twist In The Tale (4:12)
8. Nasty Piece Of Work (4:34)
9. Solitaire (4:35)
10. One Man's Meat (4:38)

Jon Lord (keyboards), Ritchie Blackmore (guitar), Ian Paice (drums), Roger Glover (bass), Ian Gillan (vocals).

Credits:
Track 1 - Blackmore/Gillan/Lord/Paice; Track 2, 4-7,9,10 - Blackmore/Gillan/Glover;
Track 3,8 - Blackmore/Glover/Gillan/Lord.

Produced by Thom Panunzio, Roger Glover.

Альбом начал записываться в США на Bearsville Studios в New York. В тот период были записаны и "back vocal" партии, исполненные вокалистом Джо Линн Тернером. После замены вокалиста (в группу вернулся Иэн Гиллан) работа продолжилась в Red Rooster Studios в г.Tutzing, Германия, где были записаны вокальные партии и начато микширование записей. Окончательное сведение сделано на Greg Rike Studios в Orlando, Florida (США).



WWW . DEEP-PURPLE . RU