DEEP PURPLE
07.11.00, Рига, Латвия.
7000 зрителей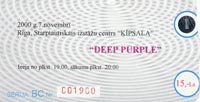 Концерт в Риге завершил гастрольные поездки Deep Purple в 2000 году.
Cет-лист:

Woman From Tokyo, Pictures Of Home, Bloodsucker, Sometimes I Feel Like Screaming, '69, Smoke On The Water, Fools, Black Night, Watching The Sky, Guitar solo, Ted The Mechanic, Keyboards solo, Lazy, When A Blind Man Cries, Speed King, Perfect Strangers, Highway Star.




Отчет о концерте (Petr Gailums, petgai@mail.lv)


WWW . DEEP-PURPLE . RU