BLACKMORE'S NIGHT
17.06.04, Киев, Украина
Национальный дворец "Украина"
2500 зрителей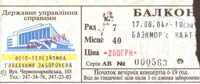 Впервые в истории Ричи Блэкмор выступил на территории Украины.
Cет-лист:

Cartouche, Queen For A Day, Under A Violet Moon, Minstrel Hall, Past Time With Good Company, Soldier Of Fortune, Diamond's And Rust, Mr. Peagram's Morris And Sword, Wind In The Willows, 16th Century Greensleeves, Fires At Midnight, Home Again/Hall Of The Mountain King, Durch Den Wald Zum Bach Haus, Ghost Of A Rose, Village On The Sand, All For One, Difficult To Cure/Self Portrait, Mond Tanz/Child In Time.

Выражаем благодарность Сергею Булию (sbs-club@ukr.net) за присланные нам материалы.



Отчет о концерте (Mr.Stratocaster, mr.stratocaster@mail.ru)


WWW . DEEP-PURPLE . RU