BLACKMORE'S NIGHT
13.06.04, С.Петербург, Россия.
БКЗ "Октябрьский"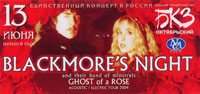 Единственный в России (в 2004 году) концерт в Санкт-Петербурге состоялся в БКЗ "Октябрьский". Сет-лист включал в себя ряд редко исполнявшихся номеров, а так же версию классической "Child In Time", новинку европейского тура. Концерт длился 1 час 55 минут.
Cет-лист:

Waiting Just For You, Cartouche, Queen For A Day (Part1/2), Under A Violet Moon, Minstrel Hall, Past Time With Good Company, Soldier of Fortune, The Temple Of The King, 16th Century Greensleeves, Diamonds And Rust, Mr. Peagram's Morris And Sword, Durch Den Zum Bach Haus, violin solo, Village On The Sand, All For One, keyboard solo, Writing On The Wall, Mond Tanz/Child In Time, Memmingen/Home Again, Wind In The Willows, Difficult To Cure, Self Portrait, Black Night.

Выражаем благодарность to Alex Kononow (xela777@mail.ru), Михаилу (meem@yandex.ru), Андрею Румянцеву (www.blackmores-night.tk) за присланные нам материалы.



WWW . DEEP-PURPLE . RU