Deep Purple
A Band Downunder

© 1999 Thompson Music / Thames Talent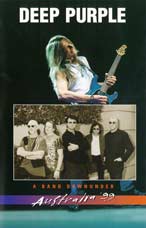 Interviews from the Tour
Sunbury 1975 footage
Into The Fire (complete live)
When A Blind Man Cries (live)
Seventh Heaven (live)
Live footage shot from Brisbain and Adelaide shows
Rehearsals For "Hey Hey It's Saturday"
Triple MMM Radio Interview
Ian Gillan's rainforest walkabout


Ian Gillan (vocals), Roger Glover (bass), Jon Lord (keyboards), Steve Morse (guitars), Ian Paice (drums).


Produced by Drew Thompson, Darren Schneider.

Это по своему уникальное видео содержит компиляцию из треков, записанных в 97-99 годах и видеоматериалов (интервью, радио- и ТВ-шоу, съемки за кулисами и т.п.), отснятых в ходе австралийского тура "Abandon" в 1999 году.
Стоит отметить, что это видео записано так же в виде бонуса к DVD-варианту концерта "Total Abandon" .


WWW . DEEP-PURPLE . RU