Deep Purple
Come Hell or High Water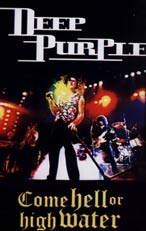 © 1994 BMG Video

1. Introduction
2. Highway Star
3. Black Night
4. Talk About Love
5. Twist In The Tale
6. Perfect Strangers
7. Beethoven
8. Knockin' At Your Back Door
9. Anyone's Daughter
10. Child In Time
11. Anya
12. The Battle Rages On
13. Lazy
14. Space Truckin'
15. Woman From Tokyo
16. Paint It Black
17. Smoke On The Water

Credits:
Track 2,3,6,8-10,12-15,17 - Blackmore/Gillan/Glover/Lord/Paice;
Track 4,5,11 - Blackmore/Gillan/Glover/Lord;
Track 16 - Jagger/Richards.

Ritchie Blackmore (guitars), Ian Gillan (vocals), Roger Glover (bass), Jon Lord (keyboards), Ian Paice (drums).

Produced by Lana Topham.

Материал для этого видео заснят во время концерта в зале "Birmingham NEC", проведенного 9 ноября 1993 года в Бирмингеме, Англия. Концерт открывается очередным инцидентом между Блэкмором и кинооператором (объяснение которого см. здесь ). На ленте так же записано интервью со всеми участниками группы (кроме Ричи Блэкмора).


WWW . DEEP-PURPLE . RU