Deep Purple
The Videosingles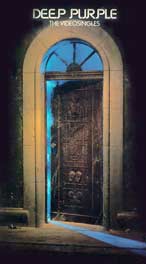 © 1987 Polygram Music Video

1. Bad Attitude
2. Call Of The Wild
3. Perfect Strangers
4. Knocking At Your Back Door
5. Nobody's Home

Credits:
Track 1-5 - Blackmore/Gillan/Glover/Lord/Paice.

Ritchie Blackmore (guitars), Ian Gillan (vocals), Roger Glover (bass), Jon Lord (keyboards), Ian Paice (drums).

Produced by Len Epand and Eric K.Andersen.

Видео представляет собой получасовую компиляцию видеоклипов эпохи 1987 года.


WWW . DEEP-PURPLE . RU